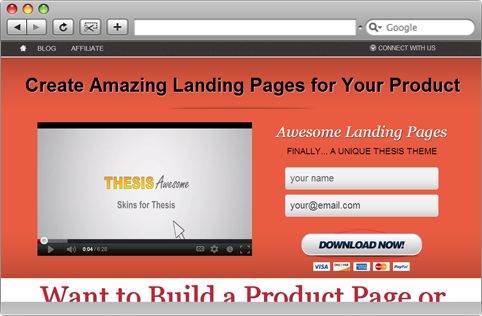 Product Skin for the Thesis Theme, build amazing landing pages, squeeze page, and more.
Included in our membership
View Demo
Sign Up
[flowplayer src='http://p.fbc.famousbloggers.netdna-cdn.com/vod/fbc.famousbloggers/videos/productskin/product_skin_video.m4v' width=520 height=293 splash='http://www.thesisawesome.com/wp-content/uploads/2011/08/product_skin_splash.jpg' controlbar=hide autoplay=true splashend=show ]
The Thesis Product Skin is the fastest way to create amazing:
Landing pages
Launch pages
Squeeze pages
One-time offer pages
Coming soon pages
And much more
*With only a few clicks, no design or technical skills required!
The Product Skin is using the WordPress widget system, and it allow you to build a landing page or squeeze page on the "front page" of your WordPress blog. So, it's a good fit for niche sites.
Thesis Product Skin gives you the power to create sales pages, landing pages, launch pages, squeeze pages, one-time offer pages, coming soon pages and much more, all without having to code or design anything by yourself. It's only a few clicks on the power option page, and by using the easy WordPress (drag and drop) widgets, you can organize and order elements on your page at any time. Just imagine it and create it!

How it Works!
It's quite a simple setup! Install Thesis Product Skin on your Thesis Theme, then create an empty WordPress page, set that page to be your front page, and start having fun designing your product or sales page your own way!

Drag & Drop
This is the best part and the real fun. Once you have your content ready, use the WordPress easy drag and drop system to create and organize your product page the way you like. Enjoy the moment and be your own designer this time!

Grow Your Sales
Thesis Product Skin has been designed to perfectly deliver the message about your product and increase your sales. Simply show your visitors how professional you are.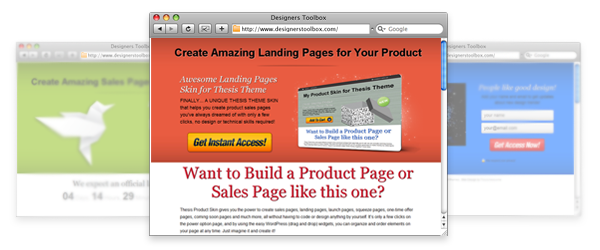 16 Background Colors
The Thesis Product Skin comes with 16 color backgrounds to choose from for product pages, and 2 schemes for blogging system. You can switch between different colors at any time through the skin option panel with one click.
We have included the PSD file in the download package in case you want to create your very own background color, then simply upload it to your WordPress Media Library and use it. Also we've included an option to use your own background images if you would like to.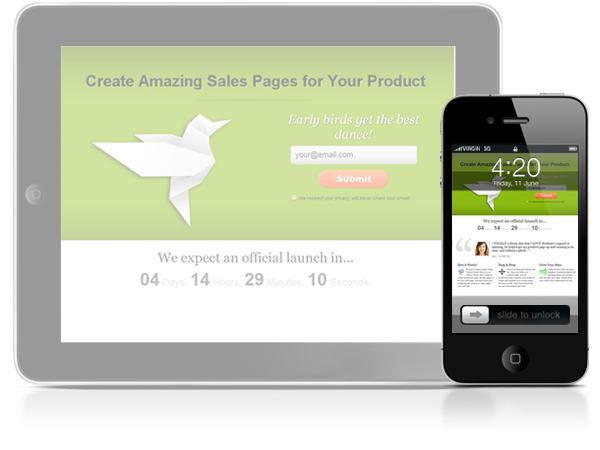 iPhone & iPad Support!
Thesis Product Page manages to provide an iPad/iPhone page that drives product sales. Many sites don't load on iPhone and iPad because it has Flash, which means videos are not viewable as they are currently served by Flash. So, we've done some work to fix this problem to ensure that videos will play correctly if anyone visits your product page via an iPhone/ iPad (however you will need to upload a video encoded in the right format). This means more people are going to see your page and know about your product, which definitely means more sales.
Add SlideShow from the Blog
We know showing off your product is so important, so we've added the functionality to display amazing jQuery slideshow on the front page of your product as well as the blog.
The slideshow is configurable through the option panel and it uses articles from your blog automatically, which means you can write normal WordPress blog posts and list them in a special category to display them on the slider in a very easy way.

Opt-in Forms Ready
We've added easy Aweber and MailChimp email service integration with 4 different well designed optin forms, this will allow you to easily display two different optin forms on the front page using the widgets system, and another two on the blog, all without having to add any code!
It's all included in the Product Skin option panel and widgets page, you can choose where exactly to display the optin forms on the front page and/or blog posts with only a few clicks.
Quality CTA Buttons for Higher Conversion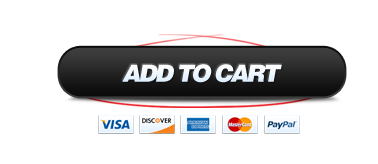 Some tasks on your product page are more important than others. We understand that buttons are for action, so we've added the best set of call to action buttons to our skin. These buttons have the "trigger words" that convert really well, this will make your calls-to-action more effective and boost your sales rate.